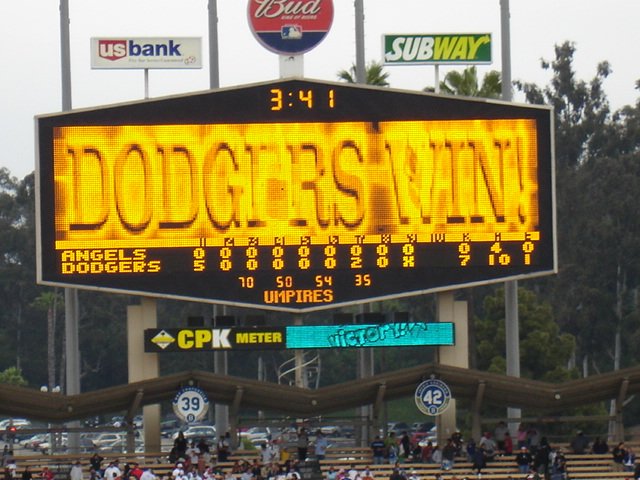 What a Team! What a team!
The Dodgers complete their first sweep of the year by blanking the hapless Angels, 7-0. Overwhelmed and understaffed, the Angels where out of it from the start. It was all but over by the first as the Dodgers score 5 runs because of timely hitting by Nomar and Ethier. Awesome, just awesome.
I was sitting in section 127LG in the back row under the reserve section overhang. These where great seats between home and third base- right next to foul ball alley. The crowd was enthusiastic and loud even on this overcast sullen day. Beachballs where everywhere. The scent of Dodger dogs and beer waffled in the air. Brief interludes of "Angels Sucks" chants could be heard as one guy up in front heckled unsuspecting players and rival fans. A game here is always a good time.
This was my first game of the year and I feel fortunate to be there. Thanks Craig! He's my friend of over 15 years who happened to get 4 tickets from his work. Perks baby! Perks!
I took a bunch of photos and posted them in my
photoalbum
. Go and check them out.