Below I've added more pics from my Victorian Baseball card collection. As we move closer to Opening Day I'll work on trying to scan more items from my collection.
This is one of the more colorful Baseball themed cards put together in the 1880's. They are called H804-1B Baby Talk Red Borders, and is the second of three different Baby Talk sets I've featured recently. Tobin Lithographs produced the cards in 1889. It consist of 9 cards featuring babies playing our favorite game. They are slightly smaller than a postcard and typically feature advertising stamped on the front or back of the card.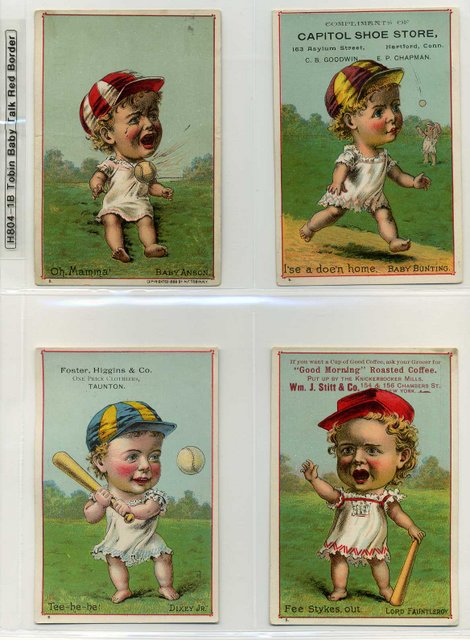 On the bottom left are the words of these young children speaking "Baby Talk." Also, these cards are unique since they refer to actual people and ballplayers.
Lord Fauntleroy
, a children's book writer, is given a card as well as ballplayers Cap Anson as "Baby Anson, " and Mike Kelly as "Baby Kelly."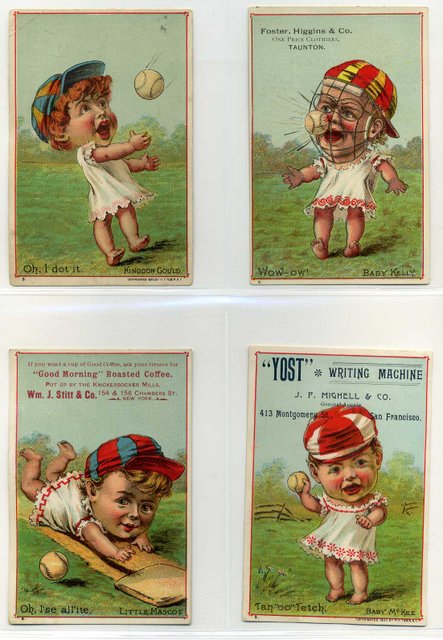 These cards are relatively inexpensive. On eBay I would regularly see Baby Talk Red Border cards selling for between $30.00 to $60.00 a piece in EX condition. For being over 100 years old that's not too bad.
Photoalbum

Link: Victorian Trade Cards
: