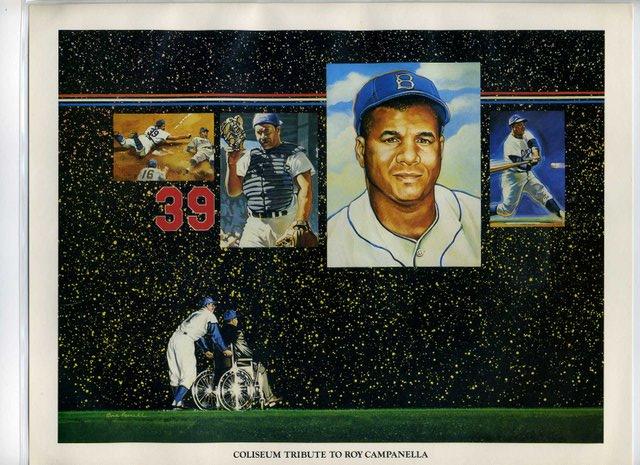 Do you remember these sheets?
If you were a fan of the Dodgers in the 80's then you probably do. In 1984 Union 76 handed out these premium prints at their gasoline stations. There were 16 different sheets, handed out one per week, with each one commemorating an important Dodger moment from the Dodgers first 25 years in Los Angeles. If I remember correctly, with a full tank of gas you received one print. They measure 8 x 11 1/2 inches and are called "Dodgers Most Memorable Moments."
Above is my favorite of the 16 available. After all, the Coliseum game from last Spring is still fresh in my mind and the Campanella tribute on that May evening in 1959 is one of LA's greatest nights. 93,000 fans came out to thank a man who had never played in the city. Yet, they showed their respect with a candlelight show for the ages. Obviously, his legacy was well known. He may have played in Brooklyn, but on this night, he belonged to the west coast.
Over the next subsequent weeks I'll write a little bit about each sheet from the set. Of course, if you are impatient you can always go to my
photoalbum
to see the other prints from the set
here
.