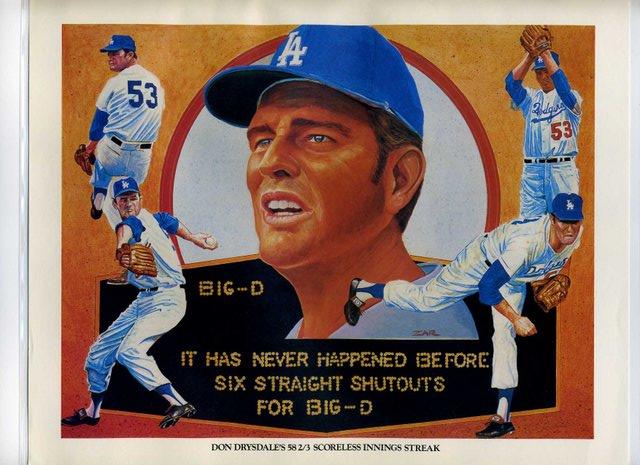 Following up on the
game-used jersey of Don

Drysdale
I thought I would finally continue on with my posting on the 1984 Union Oil Most Memorable Moments set with this
Drysdale
classic. I had originally written about the
Campanella

sheet back
in January, but never followed it up with additional post. As you'll recall, these 8" x 11.5" sheets were given away at Union Oil stations during the 1984 season.
Don
Drysdale
was a master pitcher and a rather imposing figure on the mound. So much so, he would literally scare batters at the plate. He once said,
"

I hate all hitters. I start a game mad and I stay that way until it's over."

(Quotes by players were no more comforting: "Don

Drysdale

would consider an intentional walk a waste of three pitches. If he wants to put you on base, he can hit you with one pitch." -- Mike Shannon. "I hated to bat against

Drysdale

. After he hit you he'd come around, look at the bruise on your arm and say, 'Do you want me to sign it?'" -- Mickey Mantle)
You get the picture.
Anyway, this collectible sheet highlights one of Don's greatest Baseball achievements. In the 1968 season "Big-D" recorded 58 2/3 scoreless innings that set a major league record that would stand for 20 years. During that streak he recorded 6 straight shutouts- this snapped a recorded once held by Walter Johnson for 55 years.
The artist of this drawing was
James

Zar
.
Check out the rest of the set
here in my photo album
: