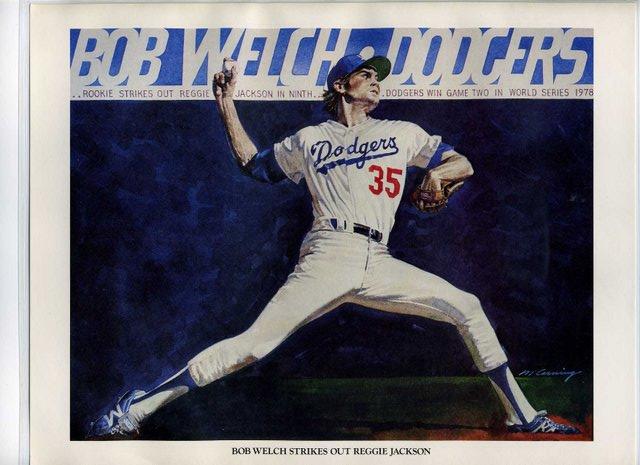 It is 1978 and the Dodgers find themselves playing the hated New York Yankees again in the World Series. Just the year before these two ancient rivals had faced off on the national stage. Reggie Jackson, "Mr. October," proved in 1977 why he earned the moniker. In that World Series he slugged 5 home runs; included 3 in one game that caused our skipper, Tommy
Lasorda
, to blurt out words in a post game interview that should never be heard by a child.
In game 2 of the 1978 World Series Reggie found himself up to bat in the ninth inning with 2 outs and the Dodgers leading 4 to 3. Reggie had driven in all 3 runs for the Yankees so far in the game. Pitching for the Dodgers to close it out was a young rookie named Bob
Welch
. The confrontation that ensued was one for the ages. It lasted 7 minutes and resulted in 9 total pitches. Bob
Welch
, who had won 7 games during the Dodgers pennant winning drive, on a 3 and 2 pitch struck out the mighty Jackson. The Dodgers now lead in the series 2 games to none. Unfortunately,
Welch's
great feat was the Dodgers only highlight of the series. The Yankees would go on to win the next 4 games to win the World Series.
Artwork by
Merv Corning
.
Check out the rest of the set
here in my

photoalbum
, or the
following link with my post
about each sheet.