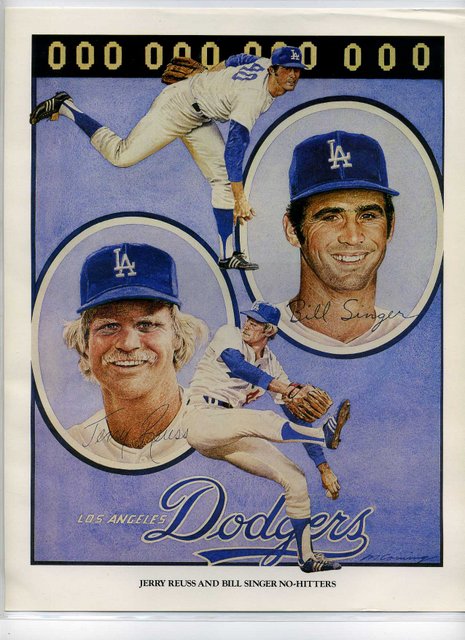 There have been 6 no-hitters in LA Dodgers history up to 1984. Sandy Koufax recorded 4 of them- one in four consecutive seasons. The other two no-hitters were thrown by Bill Singer and Jerry
Reuss
. The above 1984 Union Oil Most Memorable Moments sheet celebrates their accomplishment.
On
July 20, 1970
, Bill Singer pitched his no-no against the Philadelphia
Phillies
. He struck out 10, walked none and hit 2 batters- well, actually he hit Oscar Gamble twice. The Dodgers won 5 to 0.
Jerry
Reuss
, on
June 27, 1980
, pitched his no-hitter against the hated Giants. He had 2 strike outs, 0 walks and faced only 28 batters- just one over the minimum. The only person to get on base was Jack Clark in the first inning courtesy of an error by Bill Russell. The Dodgers decimated the Giants that night 8 to 0.
Artwork by
Merv Corning
.
Check out the rest of the set
here in my

photoalbum
.