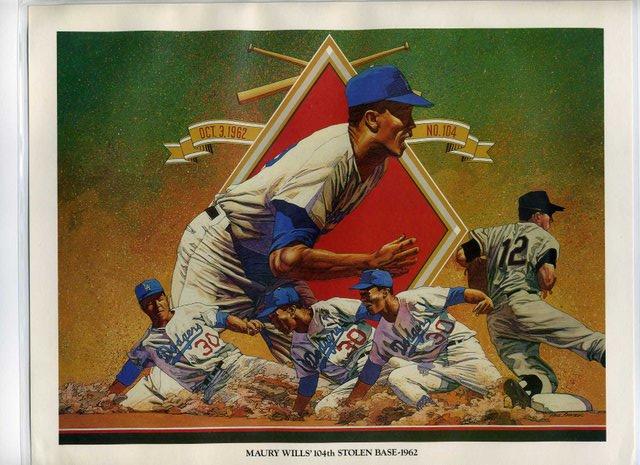 1962 was the year of the stolen base- at least for Maury it was. The above 1984 Union Oil Most Memorable Moments sheet commemorates the phenomenal season Maury Wills had in 1962. He stole 104 bases that broke the Major League record held by Ty Cobb since 1915. Maury also led the league in triples with 10, recorded 208 hits, scored 130 runs and batted .299. He would win the MVP award.
Wills had become a master at his craft. From the description on the reverse:
He experimented with difference types of leads off first base, kept "a book" on opposing pitchers' pick-off moves and the strength of catchers' arms, and learned how to slide in different ways, in order to avoid tags and preserve his slight frame.
Before Maury Baseball had lost the importance of the stolen base. After Maury pitchers and catchers found their jobs that much harder.
Artwork by
Paul Kratter
.
Check out the rest of the set
here in my

photoalbum
, or the
following link with my post
about each sheet.