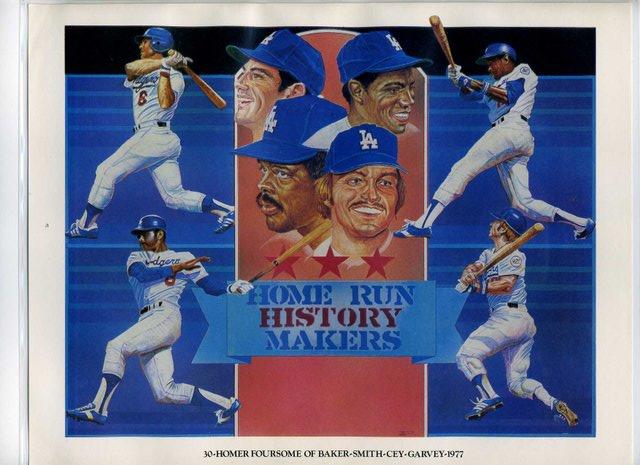 The year is 1977 and the Dodgers had a power hitting team for the ages. For the first time in Major League history a
ballclub
had 4 players hit 30 or more home runs in one season. It's unbelievable to think that a Dodger club, usually known for manufacturing runs and great pitching, could be such an offensive juggernaut.
Reggie Smith belted 32 home runs while batting .307. In May be hit 8 home runs over a 13 game stretch. Steve Garvey hit 33 homers and recorded 115
RBI's
for the season after being convinced by Tommy Lasorda to swing for the fences. Ron "The Penguin"
Cey
homered 30 times while shattering a record for
RBI's
during the month of April with 29. Dusty Baker rounds out the group by hitting 30 home runs after a miserable year in 1976 where he suffered from a knee injury.
Artwork by
James

Zar
.
Check out the rest of the set
here in my

photoalbum
.