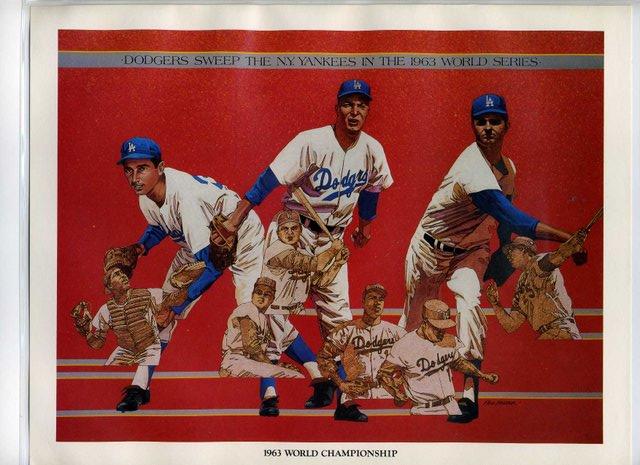 The Dodgers have always won through great pitching and the year
1963
is an example of that. The above 1984 Union Oil Most Memorable Moments sheet celebrates the Dodgers World Championship that year and appropriately features the pitching trio of Sandy Koufax, Johnny
Podres
and Don
Drysdale
.
Sandy won 25 that year,
Drysdale
won 19,
Podres
notched 14 victories and our closer, Ron
Perranoski
, won an amazing 16 games in relief. Our team ERA was 2.85 and we gave up only 402 walks while recording 1095 strike outs. We just dominated on the mound. So much so, in fact, that we ended up sweeping both playoff series that year against the Cardinals and Yankees. Check out the description on the back of the sheet below. It provides a great synopsis.
Artwork by
Paul

Kratter
.
Check out the rest of the set
here in my

photoalbum
, or the
following link with my post
about each sheet.
(Click the pic below to enlarge)